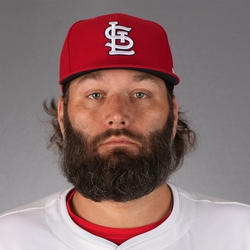 Rest-of-Season Projections
2023 Fantasy Outlook
Less than a week before Opening Day, Lynn suffered a knee injury in a Grapefruit League game, requiring surgery for a torn tendon. The procedure knocked him out for the first two months, with Lynn making his season debut for the White Sox on June 13. He looked like a pitcher coming off a long-term absence, allowing 30 earned runs -- including seven home runs -- in his first seven starts (36 innings) back from the injured list. Eventually Lynn was able to right the ship. The right-hander posted a 2.18 ERA, 0.98 WHIP and 62:8 K:BB over his final 62 innings spanning 10 starts. With his fantastic finish to the season, Lynn's stock is trending up again. He's a huge man at 6-foot-5, 280 pounds, but that does not make him immune to injuries as we've seen over the years. This is the final guaranteed year of his current deal, so Lynn would likely be a hot trade chip if the White Sox were to fall out of contention.
Read Past Outlooks
$Signed a one-year, $10 million contract with the Cardinals in November of 2023. Contract includes $12 million team option ($1 million buyout) for 2025.

Returns to Cards on one-year deal
The Cardinals signed Lynn to a one-year, $10 million contract with a $12 million club option for 2025 on Monday,
Jeff Passan of ESPN.com
reports.
ANALYSIS
Lynn could net as much as $13 million in 2024 if he hits his contract incentives, and there's a $1 million buyout on his 2025 option. It's a homecoming for the burly right-hander, as Lynn was drafted by the Cardinals and spent his first six major-league seasons in St. Louis. The 36-year-old finished the 2023 season with a 5.73 ERA over 32 starts and yielded a whopping 44 home runs, but he also had a 191:67 K:BB over 183.2 frames. The Cardinals will be hoping the home run ball becomes less of an issue at spacious Busch Stadium.
Read More News
Pitching Stats
Loading Pitching Stats...
2023
2022
2021
2020
2019
2018
2017
2023 MLB Game Log
Calculate Stats Over Time
Just click on any two dates.
Scoring
FanDuel
DraftKings
Yahoo DFS
Loading Pitching Game Log...
2022 MLB Game Log
Calculate Stats Over Time
Just click on any two dates.
Scoring
FanDuel
DraftKings
Yahoo DFS
Loading Pitching Game Log...
2021 MLB Game Log
Calculate Stats Over Time
Just click on any two dates.
Scoring
FanDuel
DraftKings
Yahoo DFS
Loading Pitching Game Log...
2020 MLB Game Log
Calculate Stats Over Time
Just click on any two dates.
Scoring
FanDuel
DraftKings
Yahoo DFS
Loading Pitching Game Log...
2019 MLB Game Log
Calculate Stats Over Time
Just click on any two dates.
Scoring
FanDuel
DraftKings
Yahoo DFS
Loading Pitching Game Log...
2018 MLB Game Log
Calculate Stats Over Time
Just click on any two dates.
Scoring
FanDuel
DraftKings
Yahoo DFS
Loading Pitching Game Log...
2017 MLB Game Log
Calculate Stats Over Time
Just click on any two dates.
Scoring
FanDuel
DraftKings
Yahoo DFS
Loading Pitching Game Log...
Minor League Game Log
Calculate Stats Over Time
Just click on any two dates.
Loading Minor League Pitching Game Log...
Pitching Appearances Breakdown
How many pitches does Lance Lynn generally throw?
What part of the game does Lance Lynn generally pitch?
% Games Reaching Innings Threshold
% Games By Number of Innings Pitched
Left/Right Pitching Splits
BAA
K
BB
H
HR
Since 2021

vs Left

.259
224
78
239
46
Since 2021

vs Right

.221
267
53
193
35
2023

vs Left

.290
80
39
104
24
2023

vs Right

.230
111
28
85
20
2022

vs Left

.253
60
8
69
12
2022

vs Right

.245
64
11
51
7
2021

vs Left

.227
84
31
66
10
2021

vs Right

.192
92
14
57
8
More Splits

→

View More Split Stats
Home/Away Pitching Splits
ERA
WHIP
IP
K/9
BB/9
Since 2021

Home

3.98
1.11
240.0
10.0
2.3
Since 2021

Away

4.53
1.33
222.1
9.1
2.9
2023

Home

5.40
1.30
91.2
9.5
2.7
2023

Away

6.07
1.49
92.0
9.2
3.8
2022

Home

4.05
1.03
53.1
9.6
1.2
2022

Away

3.95
1.23
68.1
8.8
1.6
2021

Home

2.56
0.98
95.0
10.6
2.4
2021

Away

2.90
1.21
62.0
9.3
2.9
More Splits

→

View More Split Stats
Stat Review
How does Lance Lynn compare to other starting pitchers?
This section compares his stats with all starting pitcher seasons from the previous three seasons (minimum 120 innings)*. The bar represents the player's percentile rank. For example, if the bar is halfway across, then the player falls into the 50th percentile for that stat and it would be considered average.
* Exit Velocity, Barrels/BBE %, Balls Hit 95+ MPH %, and Spin Rate are benchmarked against 2019 data (min 120 IP).
See here for more exit velocity/barrels stats
plus an explanation of current limitations with that data set.
K/BB

Strikeout to walk ratio.

K/9

Average strikeouts per nine innings.

BB/9

Average walks per nine innings.

HR/9

Average home runs allowed per nine innings.

Fastball

Average fastball velocity.

ERA

Earned run average. The average earned runs allowed per nine innings.

WHIP

Walks plus hits per inning pitched.

BABIP

Batting average on balls in play. Measures how many balls in play against a pitcher go for hits.

GB/FB

Groundball to flyball ratio. The higher the number, the more likely a pitcher is to induce groundballs.

Left On Base

The percentage of base runners that a pitcher strands on base over the course of a season.

Exit Velocity

The speed of the baseball as it comes off the bat, immediately after a batter makes contact.

Barrels/BBE

The percentage of batted ball events resulting in a Barrel. A Barrel is a batted ball with similar exit velocity and launch angle to past ones that led to a minimum .500 batting average and 1.500 slugging percentage.

Spin Rate

Spin Rate is the rate of spin on a baseball after it is released. It is measured in revolutions per minute (rpm).

Balls Hit 95+ MPH

The percentage of batted balls hit that met or exceeded the 95 MPH threshold.

Swinging Strike

The percentage of pitches that result in a swing and a miss.
Advanced Pitching Stats
Loading Advanced Pitching Stats...
Loading MLB Defensive Stats...
Our full team depth charts are reserved for RotoWire subscribers.
Subscribe Now
Recent RotoWire Articles Featuring Lance Lynn
See More
Past Fantasy Outlooks
2022
2021
2020
2019
2018
2017
2016
2015
2014
2013
2012
2010
While the scenery around him changed in 2021, Lynn remained a sturdy pitcher that relied primarily on his fastball and complementary sinker and cutter to pave his way to success. The result was his first sub-3.00 ERA since the 2014 season, which was backed by a .193 xBA, .313 xSLG and .250 xwOBA. Given that success, there doesn't appear to be many reasons to doubt Lynn going forward. There are a few areas to do so however, particularly a flyball rate that has stuck at over 40 percent for multiple seasons and a pull rate that rose to a career-high 39.9 percent in 2021. That combination could prove problematic for a pitcher who calls Guaranteed Rate Field home, one of the most homer-friendly parks in the league. Lynn had topped 150 innings in each of the last four full MLB seasons, but he'll be forced to miss the start of the 2022 campaign after being diagnosed with a slight tear in a tendon by his knee in early April. However, once he's healthy, even if his 2.69 ERA moves closer to his 3.72 SIERA, Lynn has established himself as a steady pitcher in recent years.
Since missing the 2016 season due to Tommy John surgery, Lynn has racked up innings like few other pitchers in the league -- he ranks ninth in innings pitched since the beginning of 2017 (635.1). That didn't change in 2020 as Lynn worked fewer than six innings in only two of his 13 starts. Lynn's success is supported by the skills and he backed his jump in 2019 with another K-BB rate greater than 15% across 84 innings. Most of Lynn's success can be credited to his fastball, which has limited opposing batters to a near-.200 BAA and a SLG just over .400 the past two campaigns. The only real blemish in Lynn's 2020 profile was a 1.40 HR/9, though three of the 13 home runs he surrendered came in his final start. Lynn doesn't have the gaudy strikeout totals of Gerrit Cole or Jacob deGrom, but has proven himself the past few seasons and now gets to feast on the AL Central after a December trade to the White Sox.
Lynn's average fastball velocity increased for the third straight season. In addition, for the second year in a row he defied the odds, being quite stingy with the homers, especially since he worked most of the time in some of the friendliest power venues in the league. Lynn averaged a career best 94.6 mph on his four-seamer, using it and his 89-mph cutter more while throwing his sinker less. The result was a career-high 21.4 K-BB%, fueled by a career-low 6.7 BB%. Despite quality underlying metrics, Lynn will be hard-pressed to maintain the full extent of his 2019 gains. However, early indications are the new Globe Life Field will be more pitcher friendly than Globe Life Park, so the landing should be soft. Despite missing 2016 after Tommy John surgery, Lynn's 221 starts since 2012 are the 19th most in MLB. Lynn's ceiling is limited, but he provides a solid foundation, stabilizing any fantasy rotation.
The hope for Lynn in 2018 was that his command would come back and allow him to keep the ball in the yard and lower his ERA. Command is typically the last piece of the puzzle to return for pitchers returning from Tommy John surgery, and we saw that from Lynn in 2017 as he allowed too many homers. He reduced his homers in 2018, but Lynn walked 11% of the batters he faced which offset his gains in home-run suppression and helped push his ERA up nearly to where his 2017 FIP was. The larger jump was a 120-point spike in his BABIP, so increased hits plus increased walks led to increased runs allowed. His numbers with the Yankees, in a small sample size, were much better than what he did with the Twins, and Lynn credited a change in mound positioning for much of his late success. He will slot in near the top of the Rangers' rotation after signing a three-year, $30 million contract in December.
While Lynn managed to outperform his peripherals for most of the season (4.82 FIP, 4.75 xFIP), the regression monster finally caught up to him late. The right-hander turned in a sub-3.00 ERA over his first 29 starts, but limped to the finish line with a 9.20 ERA, 2.05 WHIP and 14:10 K:BB over his final four outings. Lynn's first season back from Tommy John surgery has to be considered a success regardless, although he's behind the times in a sense; the league is moving away from the (non-blistering) fastball, and Lynn threw his low-90s fastball 81 percent of the time last season. The lack of faith in his breaking and offspeed pitches puts Lynn in a tough spot in today's game, with so many hitters sitting dead-red on fastballs. Lynn, who signed with the Twins in March, will likely be overvalued in some circles as owners chase last season's ratios. Things could get significantly worse.
Because he was slated to miss the season rehabbing Tommy John surgery, Lynn was out of the fantasy baseball conversation for 2016. Fortunately for the Cardinals and fantasy owners alike, the procedure was a success and Lynn is expected to return to action in 2017. Although it may take a few outings for him to hit his previous stride, as he'll have been away from the majors for over a year, Lynn will look to return to his 2014 and 2015 form. Lynn threw 6.2 innings across three rehab starts in the minors at the latter end of 2016. Although it was a minuscule sample size against subpar competition at High-A Palm Beach and Double-A Springfield, the outings were encouraging nonetheless as he recorded seven strikeouts and allowed just one earned run without surrendering a single walk. Lynn is expected to begin 2017 as a fixture in the St. Louis rotation again and could be a sneaky pick late in fantasy drafts.
Lynn turned in a very good 2015 but began to fade in the second half on his way to posting a 3.03 ERA in 175.1 innings. It was discovered early in the offseason that Lynn had pitched through pain for much of the season following his short DL stint in June with a forearm strain. That discovery led to successful Tommy John surgery which means Lynn will miss the entire 2016 season, obviously making him irrelevant in redraft leagues. If Lynn can return with the velocity and strikeout ability he displayed prior to surgery he should be a good bet to bounce back nicely in his age-30 season. The success rates for Tommy John surgeries are incredibly high now and there's no reason to think Lynn won't be a solid fantasy asset when he does return in 2017.
Lynn delivered his best season as a pro in 2014, going 15-10 with a terrific 2.74 ERA while posting his second consecutive season with over 200 innings. While his xFIP of 3.81 confirms what most already know, that he wasn't quite as good as the low ERA might indicate, Lynn still is a quality fantasy arm who's even more valuable in real life. Consistent middle-of-the-rotation innings eaters are not easy to find, and he's been just that for the Cardinals and is still only 27 years old. While his numbers may not be all that exciting, he should still deliver quality numbers in 2015 for his fantasy owners and likely at a very reasonable cost. His ERA may come up from 2014 but, locked into the number three spot in the rotation on what should be an improved Cardinals team, so should his win total.
Lynn was inconsistent again in 2013, but still managed to put up very good numbers for the Cardinals by season's end. The 26-year-old broke 200 innings for the first time in his career and won 15 games while posting a 3.66 xFIP and striking out 198 batters. Lynn gave up more flyballs last season, but fewer of them led to home runs as his HR/FB mark fell from 10.4% in 2012 to 7.4% last season. He still is just entering his prime and should only improve in 2014. Expect Lynn to work the middle of the rotation for the Cardinals in 2014.
Lynn was one of the bigger surprises stories in baseball last season, filling in admirably for Chris Carpenter and making 29 starts one season after holding a relief role for the Cardinals down the stretch. On a monthly basis, Lynn's performance was uneven and some owners panicked when he struggled in August (6.66 ERA, 1.91 WHIP in seven appearances), but he rallied in September to post a 34:7 K:BB, 2.76 ERA and 1.13 WHIP over his final eight appearances. Despite racking up 180 strikeouts in 176 frames last season, Lynn's hold on a rotation spot is surprisingly weak given the Cards' arsenal of quality arms. Ultimately, Lynn appears to be a good bet to open the year as a stater, but he will need to continue to pitch well in order to keep his spot for all of 2013.
It's not often you see a rookie get placed on the 60-day DL in August yet still pitch in the World Series, but a strained oblique muscle ended Lynn's strong rookie campaign (at least the regular season part) on Aug. 9. A starter throughout his minor league career, Lynn was called up in June for a couple of spot starts while Kyle McClellan was on the DL, but stuck around as a reliever the rest of the way. He excelled in his new role with a 2.22 ERA, 0.945 WHIP, and a 32:8 K:BB ratio in 24.1 innings. If the Cardinals need him in a pinch, he can probably go five innings, but it looks like his short-term role is as a reliever.
Lynn has risen through the Cardinals' system very quickly. The 2008 draft pick out of Ole Miss got better as the season went along (5-2 with a 1.81 ERA in 11 second-half starts for Double-A Springfield). His walk rate is nothing special, and his strikeout rate in Springfield was a bit lower than one might expect, but Lynn is very polished and could find himself making spot starts for the Cards as early as this summer.
More Fantasy News