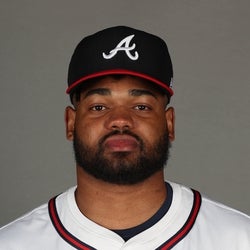 Rest-of-Season Projections
2023 Fantasy Outlook
After five-and-a-half years of struggling to make it as a starter, Lopez made the transition to full-time reliever in 2022 with 60 of his 61 appearances coming out of the pen. The right-hander demonstrated increased velocity on all four of his pitches, including an extra 1.3 mph on his fastball for a 97.1 mph average (93rd percentile), plus another 3.5 mph on his curve. He had great results too, posting six wins, nine holds and career-best ratios across 65.1 innings. Lopez's strikeout rate was consistent with 2021 and slightly above average at 24.8%, but he really made strides with his control and home run rate. His 4.3% walk rate and 0.14 HR/9 were also career-bests, with the latter tied for the best among qualified relievers after giving up just one home run last season. Lopez has the upside to close, but with Liam Hendriks and other veteran relievers to contend with in Chicago, don't count on an abundance of saves chances in 2023.
Read Past Outlooks
$Signed a three-year, $26 million contract with Atlanta in November of 2023. Contract includes $8 million team option ($4 million buyout) for 2027.

Gets three years, $30M from Atlanta
Lopez
signed
a three-year, $26 million contract with Atlanta on Monday.
ANALYSIS
The deal contains an $8 million club option or $4 million buyout for the 2027 season, so Lopez will net $30 million over the life of the deal. Atlanta had already re-signed
Pierce Johnson
and
Joe Jimenez
and traded for
Aaron Bummer
and they've now brought in Lopez to reinforce their bullpen. Lopez made a full-time move to relief in 2022 and has produced a 3.02 ERA, 1.11 WHIP and 146:45 K:BB over 131.1 innings covering the last two seasons.
Justin Toscano of The Atlanta Journal-Constitution
reports that Lopez will be stretched out during spring training to give Atlanta a rotation option, with the possibility that he could contribute both as a starter and reliever. In all likelihood, Lopez will wind up in the bullpen and step in as one of the top setup options in front of closer
Raisel Iglesias
.
Read More News
Pitching Stats
Loading Pitching Stats...
2023
2022
2021
2020
2019
2018
2017
2023 MLB Game Log
Calculate Stats Over Time
Just click on any two dates.
Scoring
FanDuel
DraftKings
Yahoo DFS
Loading Pitching Game Log...
2022 MLB Game Log
Calculate Stats Over Time
Just click on any two dates.
Scoring
FanDuel
DraftKings
Yahoo DFS
Loading Pitching Game Log...
2021 MLB Game Log
Calculate Stats Over Time
Just click on any two dates.
Scoring
FanDuel
DraftKings
Yahoo DFS
Loading Pitching Game Log...
2020 MLB Game Log
Calculate Stats Over Time
Just click on any two dates.
Scoring
FanDuel
DraftKings
Yahoo DFS
Loading Pitching Game Log...
2019 MLB Game Log
Calculate Stats Over Time
Just click on any two dates.
Scoring
FanDuel
DraftKings
Yahoo DFS
Loading Pitching Game Log...
2018 MLB Game Log
Calculate Stats Over Time
Just click on any two dates.
Scoring
FanDuel
DraftKings
Yahoo DFS
Loading Pitching Game Log...
2017 MLB Game Log
Calculate Stats Over Time
Just click on any two dates.
Scoring
FanDuel
DraftKings
Yahoo DFS
Loading Pitching Game Log...
Minor League Game Log
Calculate Stats Over Time
Just click on any two dates.
Loading Minor League Pitching Game Log...
Pitching Appearances Breakdown
How many pitches does Reynaldo Lopez generally throw?
What part of the game does Reynaldo Lopez generally pitch?
% Games Reaching Innings Threshold
% Games By Number of Innings Pitched
Left/Right Pitching Splits
BAA
K
BB
H
HR
Since 2021

vs Left

.212
82
36
61
8
Since 2021

vs Right

.209
119
22
82
11
2023

vs Left

.180
35
23
18
3
2023

vs Right

.227
48
11
32
5
2022

vs Left

.239
25
6
22
1
2022

vs Right

.204
38
5
29
0
2021

vs Left

.219
22
7
21
4
2021

vs Right

.193
33
6
21
6
More Splits

→

View More Split Stats
Home/Away Pitching Splits
ERA
WHIP
IP
K/9
BB/9
Since 2021

Home

2.51
0.92
96.2
10.2
2.1
Since 2021

Away

3.80
1.21
92.1
8.9
3.4
2023

Home

2.53
1.13
32.0
12.4
3.9
2023

Away

3.97
1.41
34.0
10.3
5.3
2022

Home

1.57
0.82
34.1
9.4
0.8
2022

Away

4.06
1.10
31.0
7.8
2.3
2021

Home

3.56
0.82
30.1
8.9
1.8
2021

Away

3.29
1.10
27.1
8.2
2.3
More Splits

→

View More Split Stats
Stat Review
How does Reynaldo Lopez compare to other relievers?
This section compares his stats with all relief pitcher seasons from the previous three seasons (minimum 30 innings)*. The bar represents the player's percentile rank. For example, if the bar is halfway across, then the player falls into the 50th percentile for that stat and it would be considered average.
* Exit Velocity, Barrels/BBE %, Balls Hit 95+ MPH %, and Spin Rate are benchmarked against 2019 data (min 30 IP).
See here for more exit velocity/barrels stats
plus an explanation of current limitations with that data set.
K/BB

Strikeout to walk ratio.

K/9

Average strikeouts per nine innings.

BB/9

Average walks per nine innings.

HR/9

Average home runs allowed per nine innings.

Fastball

Average fastball velocity.

ERA

Earned run average. The average earned runs allowed per nine innings.

WHIP

Walks plus hits per inning pitched.

BABIP

Batting average on balls in play. Measures how many balls in play against a pitcher go for hits.

GB/FB

Groundball to flyball ratio. The higher the number, the more likely a pitcher is to induce groundballs.

Left On Base

The percentage of base runners that a pitcher strands on base over the course of a season.

Exit Velocity

The speed of the baseball as it comes off the bat, immediately after a batter makes contact.

Barrels/BBE

The percentage of batted ball events resulting in a Barrel. A Barrel is a batted ball with similar exit velocity and launch angle to past ones that led to a minimum .500 batting average and 1.500 slugging percentage.

Spin Rate

Spin Rate is the rate of spin on a baseball after it is released. It is measured in revolutions per minute (rpm).

Balls Hit 95+ MPH

The percentage of batted balls hit that met or exceeded the 95 MPH threshold.

Swinging Strike

The percentage of pitches that result in a swing and a miss.
Advanced Pitching Stats
Loading Advanced Pitching Stats...
Loading MLB Defensive Stats...
Our full team depth charts are reserved for RotoWire subscribers.
Subscribe Now
Recent RotoWire Articles Featuring Reynaldo Lopez
See More
Jason Collette takes a look at middle relievers who could have fantasy value next season without earning saves, including Baltimore's DL Hall.
Brad Johnson check in on ever-changing closing situations, and in New York, the Mets are hopeful Edwin Diaz could be back at the end of September.
Todd Zola makes the case for innings pitched over wins or quality starts as a fantasy category and shares his thoughts from Tuesday's box scores.
Past Fantasy Outlooks
2022
2021
2020
2019
2018
2017
2016
2015
Evaluating Lopez requires a look beyond his season-long stats, as his 20 appearances in the majors were split nearly exactly evenly between starting and relieving. As a starter, Lopez posted a strong 15.4 K-BB% though his 4.10 ERA was likely fortunate given that he surrendered 1.7 HR/9. However, Lopez really made his mark as a reliever. In 20.1 innings of work, Lopez predictably saw his K% spike to 30.1, and he surrendered a more respectable 1.3 HR/9. Despite the positives, it's also important to keep Lopez's relative success in perspective. For one, this small run of success comes in the face of a career that has been dominated by struggles to this point. Lopez's success also came in largely low-leverage roles as he failed to log either or a save or hold. His performance was likely enough to save his future in the majors, though his path to consistent fantasy value is less clear given the strength of the White Sox bullpen and Michael Kopech's likely move to a full-time role in the rotation.
Lopez's 2020 campaign was derailed by a combination of injury and poor performance that led to a brief demotion to the team's alternate site. He ended the season with a 6.49 ERA that was marred by a 12.4% walk rate and 3.1 HR/9. On a positive note, Lopez incorporated both his slider and changeup more heavily. After throwing his fastball at or near a 60% clip through the first four seasons of his career, Lopez's fastball usage dipped to just over 50% in 2020. As a result, he threw three different pitches at a 20 percent or higher clip for the first time in his career. New pitching coach Ethan Katz could help Lopez build on this tweak to improve his results in 2021. A positive trajectory will be necessary for Lopez to remain in the rotation, as Michael Kopech will return in 2021 and the team could look to add to their staff in free agency as well.
In 2018, Lucas Giolito posted the worst ERA among qualified starters. While Lopez's 5.38 ERA wasn't the worst of 2019, he was next in line, with only Rick Porcello's 5.52 mark being higher. If you squint, there's a glimmer of hope for Lopez. His 4.88 SIERA suggests the actual 5.38 ERA was unlucky. More importantly, Lopez's second-half skills improved, fueling a 4.29 second-half ERA (6.34 before the break). Specifically, Lopez's strikeout rate improved to 22.5% from 19.5%, his walk rate dropped to 7.3% from 8.5% and his HR/FB plummeted to 1.26 from an unsightly 2.11. Lopez's fastball velocity is 83rd percentile, but he lacks spin on both it and his curve. Their respective spin rates rank 22nd and 7th percentile. Lopez's breakout potential is far from "roster at all costs." However, if you have a deep reserve, consider stashing Lopez and monitoring spin rates and performance early in the season.
Lopez closed out the year with an outstanding run in September (1.09 ERA), bringing his ERA for the season under 4.00 after it got as high as 4.72 in mid-August. Was it mostly luck, or did Lopez actually figure something out down the stretch? He said last summer that he was focusing on the mental aspect of the game instead of just trying to blow by hitters, continuing lessons instilled by Max Scherzer about scouting hitters, locating and changing visual angles. An important aspect of Lopez's development has been the slider that White Sox pitching coach Don Cooper taught Lopez in 2017. It has since become Lopez's best pitch by Pitch Values. Lopez's strikeout rate soared to 27.6% over the final month, and while it may have been mostly fluky, part of it may have been his maturation as a pitcher and the more granular scouting of his opponents. Further refinement of the changeup is still needed, but there is plausible upside here.
Acquired from the Nationals last offseason in the Adam Eaton deal, Lopez is one of many power arms the club has stockpiled. After 22 starts for Triple-A Charlotte, registering a 3.79 ERA and 1.24 WHIP with 131 whiffs in 121 innings, Lopez got the call to the majors, making his Pale Hose debut on Aug. 11. Lopez started eight contests, working at least six stanzas in all but one, an impressive feat in today's five-and-fly climate. A 65 percent left-on-base rate didn't do his ERA any favors, though a weak 15 percent strikeout rate didn't help either. Lopez displayed an above-average strikeout clip everywhere else, including a short stint with the Nationals in 2015, so expect the righty and his 95-mph fastball to pick up the pace as he further acclimates to major-league hitters. Lopez has the stuff to be a difference-maker down the line. For now, there will still be growing pains, working half the time in one the American League's friendlier hitting venues.
After dominating Double-A to begin the season, Lopez spent the second half bouncing between Triple-A and the majors, posting solid ratios at Syracuse despite a decline in his strikeout rate but mostly struggling for Washington. He flashed his upside in August, though, posting a 1.29 ERA and 13:4 K:BB in 14 innings over back-to-back starts against the Braves. The 22-year-old right-hander's big weapon is a fastball that averaged 95.8 mph in the majors, but he also mixes in a plus curveball and work-in-progress changeup. There are concerns about his ability to hold up as a starter given his slight frame, but his arsenal should allow him to thrive in a late-inning role if he is eventually moved to the bullpen. Traded to the White Sox in the Adam Eaton deal, Chicago will give Lopez every chance to stick as a starter, and a strong spring could put him in the rotation to begin 2017.
A year after a breakout performance that landed him near the top of the Nationals' prospect list, Lopez is still more future projection that he is finished product. His 4.09 ERA and 8.5 K/9 in 99 innings at High-A Potomac weren't exactly dominant, but his 2.5 BB/9 and 0.5 HR/9 indicate an ability to keep the ball in the lower half of the strike zone that will serve him well as he advances through the system. The 22-year-old right-hander fires a heavy high-90s fastball from an easy, repeatable delivery, and his curveball and changeup both have the makings of above-average pitches. Six-foot pitchers with big velocity tend to get typecast as relievers, and that could well be Lopez's eventual fate, but his athleticism and secondary offerings are strong enough to give the Nats every reason to keep him in the rotation as he works his way up the ladder.
Signed out of the Dominican Republic in 2012 as an 18-year-old, Lopez raced up prospect lists after a breakout season in which he struck out 70 batters in 83.1 innings between the New York-Penn and South Atlantic leagues. The right-hander features a heavy mid-90s fastball that he can crank up to near triple digits when he feels the need, plus a work-in-progress breaking ball and changeup, and if everything comes together, he'll give the Nationals yet another future ace to slot in alongside Stephen Strasburg and Lucas Giolito. Lopez is a long way from being in their company, though, and even the Yordano Ventura comps getting bandied around are very premature. The kid has massive upside, and that fastball is as close to a guarantee of a big league job as you'll find, but you may want to wait and see if he can dominate over a full season before anointing him as the next big thing.
More Fantasy News